The New York Stock Exchange is abbreviated NYSE. It is the world's largest stock exchange by market capitalization of its listed companies. Data from May 2015 show a market capitalization of its listed companies at slightly below 20 trillion USD. The New York Stock Exchange is located on 11 Wall Street in New York City.
The New York Stock Exchange is open for trading Monday through Friday, from 09:30 to 16:00 (North American Eastern Time Zone), except for holidays when the stock exchange is closed. These holidays are always declared well in advance by the exchange. The stock exchange can also close for other reasons, e.g. weather conditions.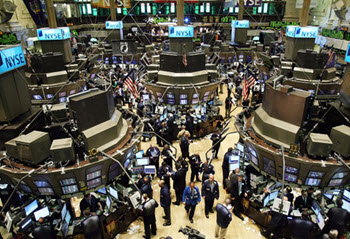 Several famous stock market indices are wholly or partly based on stocks listed at the NYSE.
The NYSE Composite covers all common stock listed at NYSE, including American depositary receipts, real estate investment trusts, tracking stocks, and foreign listings.
The Dow Jones Industrial Average covers 30 large companies based in the United States. Of the 30 companies that is currently included in this index, 26 are listed at NYSE and the other four are listed at NASDAQ.
The S&P 500 is a stock market index based on the market capitalization of 500 large United States companies traded on either NYSE or NASDAQ. This index comprises 505 common stocks issued by 500 companies (5 of the companies are represented by not just one but two share classes of stock). Many experts consider this index the best representation of the U.S stock market.