The London Platinum and Palladium Market (LPPM) is an over-the-counter (OTC) trading center for platinum and palladium. A large percentage of the transactions carried out here are purely speculative with no physical delivery taking place.
Twice a day during trading days, four LPPM members fix the bid prices for platinum and palladium.
Morning fixing: Monday – Friday at 09:45 UTC
Afternoon fixing: Monday – Friday at 14:00 UTC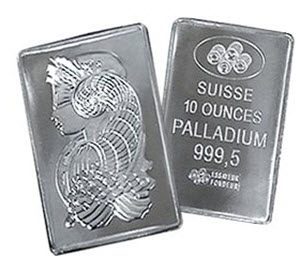 The bid price is one at which members of the LLPM guarantee that they will buy good delivery platinum or palladium, respectively. These prices become benchmarks for the market and will typically impact the price consumers, investors and speculators are asked pay if they wish to purchase platinum and palladium.
LPPM members
The LPPM members are large international banks, as well as producers, refiners, fabricators, manufacturers and distributors of platinum and/or palladium.
Full members (as of 2015)
Barclays Bank PLC
Credit Suisse
Deutsche Bank AG
Goldman Sachs International
HSBC Bank USA NA
ICBC Standard Bank Plc
JP Morgan Chase Bank
Standard Chartered Bank
The Bank of Nova Scotia, ScotiaMocatta
The Toronto-Dominion Bank
UBS AG
BASF Metals Limited
Heraeus Metals Germany GmbH & Co. KG (not a Market Making Member)
Johnson Matthey PLC (not a Market Making Member)
Metalor Technologies SA (not a Market Making Member)
Mitsui & Co Precious Metals Inc (London Branch)
PAMP SA (not a Market Making Member)
Tanaka Kikinzoku Kogyo K.K (not a Market Making Member)
Valcambi (not a Market Making Member)