The price-weighted stock market index Dow Jones Industrial Average (DJIA) tracks the share price movements for 30 large and well-established companies listed on the New York Stock Exchange (NYSE) and Nasdaq. It is also known as the Dow 30.
DJIA is a very famous index, and it is considered one of the bench-mark indices for the United States stock markets. It is generally seen as a proxy for the broader U.S. economy.
The 30 companies belong to a variety of industries, and all the major U.S. sectors are currently represented except utilities and transportation. Still, one could argue that the DJIA does not represent the U.S. economy well, as it only consists of large-cap companies and only includes 30 companies. Some analysts prefer to look at the S&P 500 to gauge the broader U.S. economy, as it is based on 500 companies instead of just 30 and capitalization-weighted instead of price-weighted. Still, just like the DJIA, the S&P 500 is limited to large-cap companies.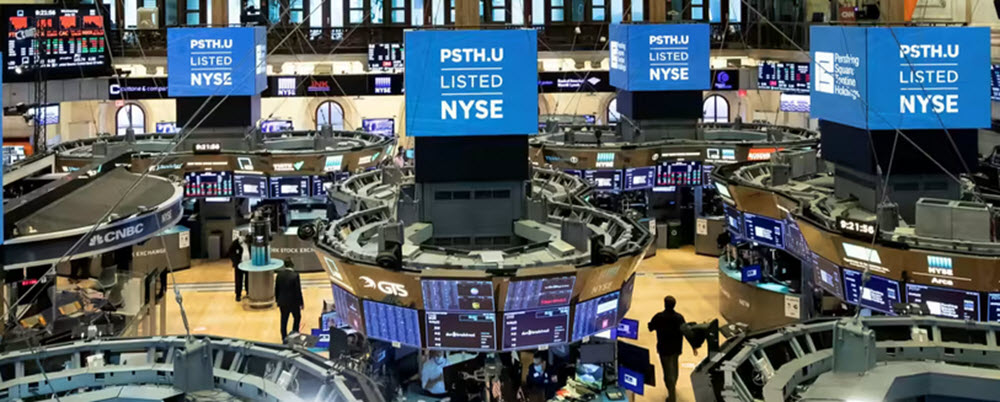 Speculating on the DJIA
It is possible for investors to gain exposure to the DJIA movements through a variety of methods. One popular choice is to invest in one of the Exchange-Traded Funds (ETFs) created specifically with the aim of tracking the DJIA. One example is the SPDR DJIA ETF, which is traded as DIA on NYSE Arca.
The DJIA is a price-weighted index
As mentioned above, the DJIA is a price-weighted index, unlike the S&P 500 which is capitalization-weighted.
When the DJIA index is calculated, stocks with higher share prices are given greater weight. So, a price move for a higher-priced share will have larger impact on the DJIA than what the same price movement would have if it occurrs for a share with a lower price.
Back when the DJIA was created, it was not price-weighted (and it only contained 12 companies).
Which company shares constitute the DJIA?
Exactly which 30 company shares that make up the DJIA has varied over time, and the selection is re-evaluated regularly.
As of June 2022, these are the 30 constituents of the DJIA
Company
Ticker symbol
Date added to the DJIA
Procter & Gamble
PG
1932-05-26
3M

(Formerly Minnesota Mining and Manufacturing)

MMM
1976-08-09
IBM
IBM
1932-05-26 to 1939-03-04, and then from

1979-06-29

Merck
MRK
1979-06-29
American Express
AXP
1982-08-30
McDonald's
MCD
1985-10-30
Boeing
BA
1987-03-12
Coca-Cola
KO
1932-05-26 to 1935-11-20, and then from

1987-03-12

Caterpillar
CAT
1991-05-06
Disney
DIS
1991-05-06
JPMorgan Chase
JPM
1991-05-06
Johnson & Johnson
JNJ
1997-03-17
Walmart
WMT
1997-03-17
Home Depot
HD
1999-11-01
Intel
INTC
1999-11-01
Microsoft
MSFT
1999-11-01
Verizon
VZ
2004-04-08
Chevron
CVX
1930-07-18 to 1999-11-01, and then from

2008-02-19

Cisco
CSCO
2009-06-08
Travelers
TRV
2009-06-08
UnitedHealth
UNH
2012-09-24
Goldman Sachs
GS
2013-09-20
Nike
NKE
2013-09-20
Visa
V
2013-09-20
Apple
AAPL
2015-03-19
Walgreens Boots Alliance
WBA
2018-06-26
Dow
DOW
2019-04-02
Amgen
AMGN
2020-08-31
Honeywell
HON
1925-12-07 to 2008-02-19 under various names, including Allied Chemical and Dye, Allied Chemical, AlliedSignal and Honeywell, and then from 2020-08-31 as Honeywell
Salesforce
CRM
2020-08-31
Industries
| | |
| --- | --- |
| Company | Industry |
| Boeing | Aerospace and defense |
| Amgen | Biopharmaceutical |
| Disney | Broadcasting and entertainment |
| Dow | Chemical industry |
| Nike | Clothing industry |
| 3M | Conglomerate |
| Honeywell | Conglomerate |
| Caterpillar | Construction and Mining |
| Coca-Cola | Drink industry |
| Procter & Gamble | Fast-moving consumer goods |
| American Express | Financial services |
| JPMorgan Chase | Financial services |
| Goldman Sachs | Financial services |
| Visa | Financial services |
| McDonald's | Food industry |
| Home Depot | Home Improvement |
| IBM | Information technology |
| Microsoft | Information technology |
| Cisco | Information technology |
| Apple | Information technology |
| Salesforce | Information technology |
| Travelers | Insurance |
| UnitedHealth | Managed health care |
| Chevron | Petroleum industry |
| Merck | Pharmaceutical industry |
| Johnson & Johnson | Pharmaceutical industry |
| Walmart | Retailing |
| Walgreens Boots Alliance | Retailing |
| Intel | Semiconductor industry |
| Verizon | Telecommunications industry |
Trivia
When the DJIA was invented it only had 12 constituents, but by 1928 the number had grown to 30.
Examples of years where several companies have been replaced are 1997, 1999 and 2020. In 1997, Travelers' Group replaced Westinghouse Electric, Johnson & Johnson replaced Bethlehem Steel, Hewlett-Packard replaced Texaco, and Wal-Mart replaced Woolworth's. Two years later, Chevron, Goodyear Tire, Sears Roebuck, and Union Carbide were removed and Microsoft, Intel, Home Depot, and SBC Communications were added. ExxonMobil, Pfizer, and Raytheon Technologies were dropped from the index in 2020 and replaced with Honeywell, Amgen and Salesforce.
Changes can also occur because of mergers, spin-offs, and similar. In 2018, United Technologies merged with Raytheon Company to form a new company called Raytheon Technologies, and this new company was included in the index.
Questions and answers
How old is the DJIA?
The DJIA index was launched in 1896. Back then, it was comprised of 12 companies and they were primarily selected from the industrial sector, including the railroad, gas, oil, cotton, sugar, and tobacco industries.
While 1896 is a long time ago, the DJIA is actually not the oldest U.S. market index, since the Dow Jones Transportation Average (DJTA) was launched in 1884.
When did the DJIA reach 10,000 points for the first time?
The DJIA reached 10,000 points for the first time in March 1999. Eventually, the dot.com crash made it drop significantly from this height, and it had gone down to below 7,200 points by October 2002.
In the 2010s, the DJIA rose dramatically again. It reached 15,000 points in May 2013, closed above 20,000 points for the first time in January 2017, and closed above 25,000 points in January the following year.
What happened to the DJIA during the Covid19 pandemic?
The DJIA reached its pre-pandemic high in February 2020, when it peaked just above 29,551 points. The following month became the end of a bull market that had lasted ever since March 2009. In March 2020, the DJIA had several highly volatile days when it moved between 1,500 and 2,000 points within a single day, and there was also one instance when it fell 3,000 points in a single-day.
Fairly soon, the DJIA began to improve again, and it reached above 29,950 points on November 16, 2020. On November 24, it broke the 30,000 point level for the first time ever, even though the Covid19 pandemic was still going on.